Marcia + Wicus | 5 January 2019 | Droombos
Thinking back to the wedding of Marcia Van Zyl and Wicus Van Zyl I remember with fondness a special bond, a friendship but also their amazing willingness to be a super person to the other – So strange that the first song that popped into my head was "Moments like this" especially the Leona Lewis rendition and the lyrics made me think of them:
"What if I told you it was all meant to be?

Would you believe me, would you agree?

It's almost that feeling that we've met before

So tell me that you don't think I'm crazy
When I tell your love has come here and now
A Moment like this

Some people wait a lifetime

For a moment like this

Some people search forever

For that one special kiss

I can't believe it's happening to me

Some people wait a lifetime

For a moment like this
Everything changes, but beauty remains

Something so tender I can't explain

Well I may be dreaming but 'til I awake

Can we make the dream last forever?

And I'll cherish all the love we share"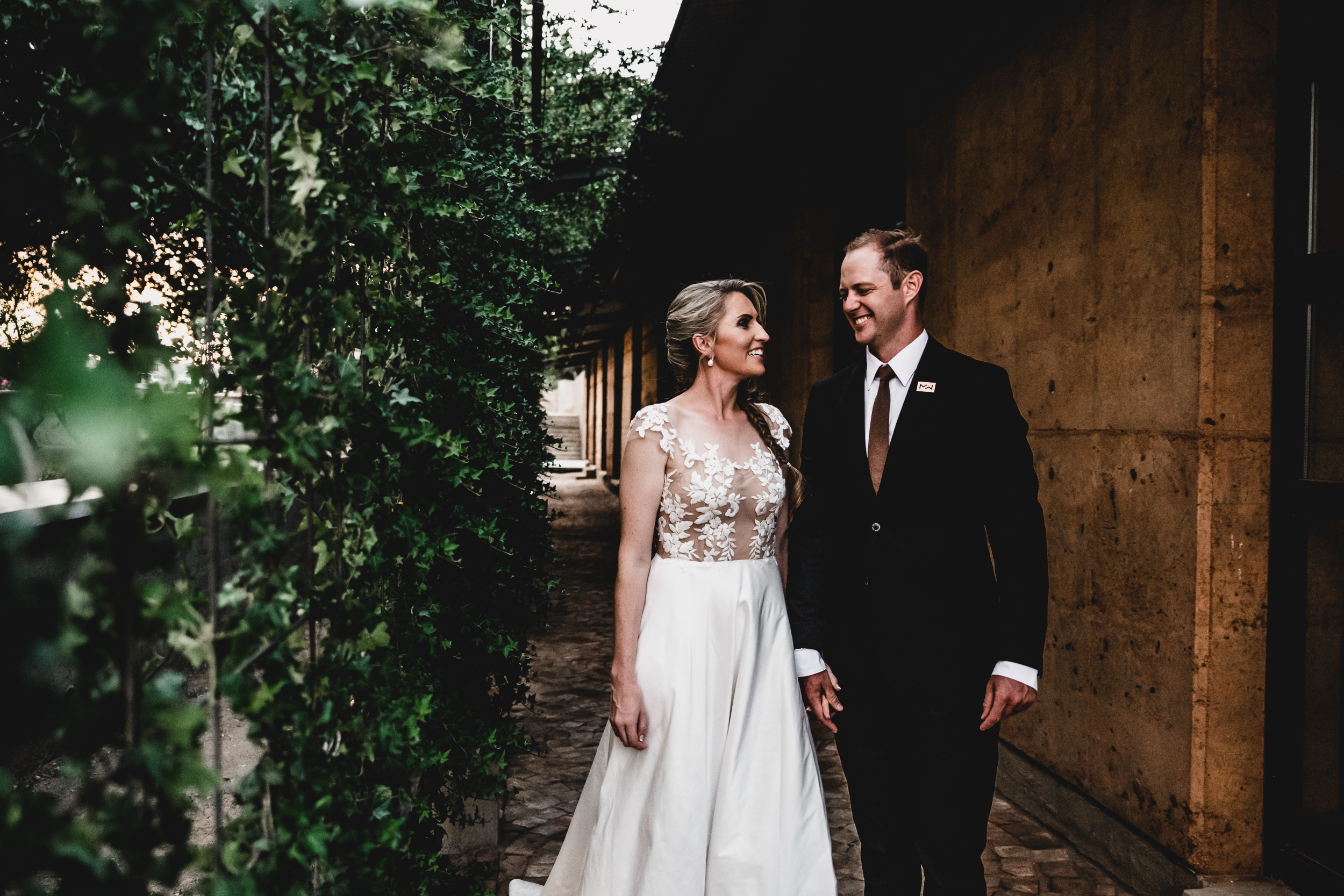 This was not a wedding that the team of Tamonika took lightly and we had to make immense planning to tackle this wedding on 5 January 2019. We created from the pits of our hearts and we were overjoyed with the outcome. The look and feel was mesmerizing where the canvas of black at Droombos made us rethink many options on the go as we never worked in such a dark and alluring space before – Luckily, we loved the challenge and learned allot through the process working with Marcia and Tersia Venter on the details of the special day. Two hundred exceptional friends and family form part of this wedding troupe filled with moments to give gooseflesh for years to come just thinking about it.
If not for our friends in the industry this wedding could easily have become the biggest nightmare of our lives but all went so smoothly except for a power line that snapped and we sat in silence- Thanks to fairies and angels the problem was fixed and we started to with a real "TROU-FEES". After an emotional and filled with loved ceremony the guest enjoyed gin and tonics and ice cold beer while Rhona Mouton-Strauss of The Taste Academy kept the canapés coming for guest to savour utter delicious morsels of goodness.
After the fun filled photos session of the couple and bridal party taken by the amazing Nadine and St of Nifty Studio the guest moved into the venue for an evening filled with Moments like ever before – How amazing as we as outsiders can see the admiration and love the guests had for this amazing couple – sorry for using the word amazing so many time but this was a unmistakable remarkable wedding to attend.
The speeches and tributes was truly heartfelt, each and every song played had meaning and purpose. The event was such a family and friend's affair that time stood still
The food was to die for and guest did not worry about diets at all – Four stations serving the best of "Boere" Cuisine, Greek, Italian and delicious deserts that made for a sweet little moment of yumminess.
We can write on for hours but as Tamonika we can only congratulate this couple and wish them the best marriage ever. We truly enjoyed the wedding and although we worked to late each evening we are proud to be associated with this event.