Celebration| 18 January 2020 | Na'ankuse Lodge
"Celebration" seems like these days we need allot of celebration and I strongly believe we should host the most amazing celebration the day that this country is virus free and we could live again without confusion this invisible sickness brings.
I am so blessed with my team to help and create one of a kind celebrations for people and honestly it gives me goosebumps every year when my calendar notifies me on a wedding, a birthday event we planned and organize…
The detail for any event is what I as event organizer live, dream, eat and sleep and I leave the repeat button on forever. In January, we organized an intimate birthday celebration for a previous client which wedding we organised, Salomo Hei and he was so dapper on the day and got blessed with a special dinner at the lovely N/a'an ku sê a mere 40 km form Windhoek. The lovely villas out at the lodge provide the most amazing "venues" when privacy and a feeling of decadence is needed.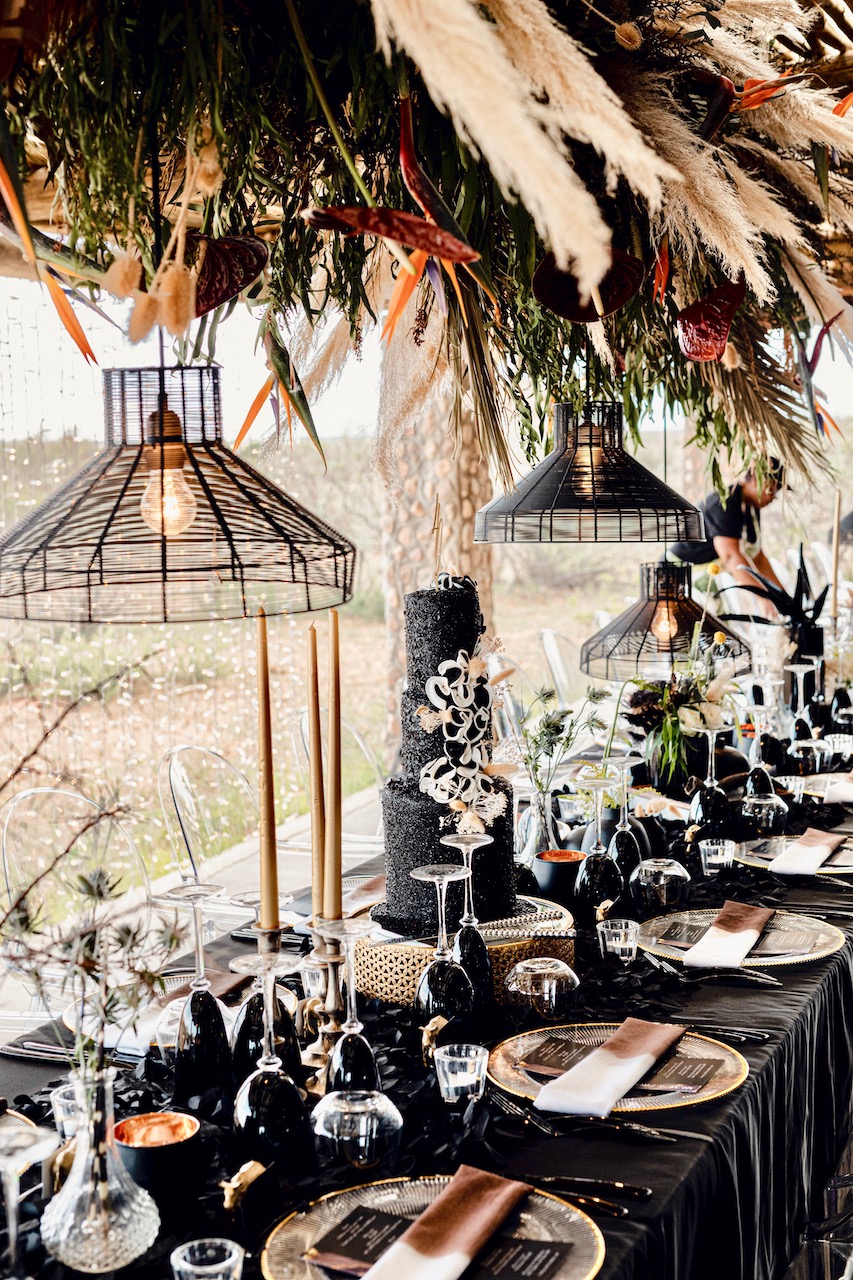 We dressed one long banquette table under a roof of wooden droppers which gives the setting a glamour and rustical feel to the setting, it was a lovely day and the evening the clouds gathered and it started raining – again another birthday that got blessed by our heavenly father….
The décor was earthy and created an heir of luxury and refinement. We used only black and gold as colour scheme, although the table setting was truly textural in all its splendor. Guest got served a wonderful three course sit down dinner that was influenced by the clients growing up experience and his amazing rich culture.
The roof was lined with an amazing dried design of fauna and flora and the addition of fresh birds of paradise (Sterlitzia) made the design and the black wire lighting installation a wonderful conversational piece as well as a lovely decorative element.
We added lighting to the venue and curtains of fairy lights to create an evening to remember.
Thank you so much Salomo and Ashley for the opportunity to Organise this special celebratory event. We wish you both and your family only good health and prosperity.
These lovely photos was taken by the talented Lerike Drotsché Photography.. Always so focused on a photo that tells a story to the T….